Regular price
Rs. 799.00
Sale price
Rs. 499.00
Unit price
per
Sale
Sold out
Share
IMMUNITY TEA
Description
Tangerine Turmeric Herbal Tea, one of our Ayurvedic formulas for soothing the nerves, helps you stay tranquil while warding off the flu and promoting radiant skin. Cinnamon, ginger, and lemon have been expertly blended by the mixologists at SOL, creating a complex and flavorful beverage. An elixir that will invigorate your body and elevate your spirits at the same time. When you're not feeling like yourself, mix some hot water with this herbal mixture, and you'll find that it helps you feel better.
Health Benefits
Boosts Immunity
Fight against cough and cold and relieves sore throat
Anti-inflammatory and anti bacterial
Promotes hair and skin health
Supports gut health
Why drink this Tea?
This spicy blend is high in antioxidants and anti-inflammatory properties, both of which are said to help cleanse the body and boost the immune system.
Ingredients
Turmeric, Lemon Peel, Ginger, Cinnamon, Black Pepper, Cardamom, Lemongrass
Caffeine
Does not contain Caffeine.

Mode
Ideally consumed hot
Steeping Instructions
Brewing Temperature: 99 deg.C; Brewing Time: 4-6 mins
Tasting Notes
Citrusy herbal undertone with a hint of cardamom's freshness and spicy notes of Black pepper and Turmeric
Origin
India
Packaging
Tight-lid cylindrical containers for loose leaves and sachets for tea bags are used to store teas after they have been vacuum-sealed in Matellised Packaging, which protects the teas from air and light while also preventing them from absorbing aromas and deteriorating over time.


View full details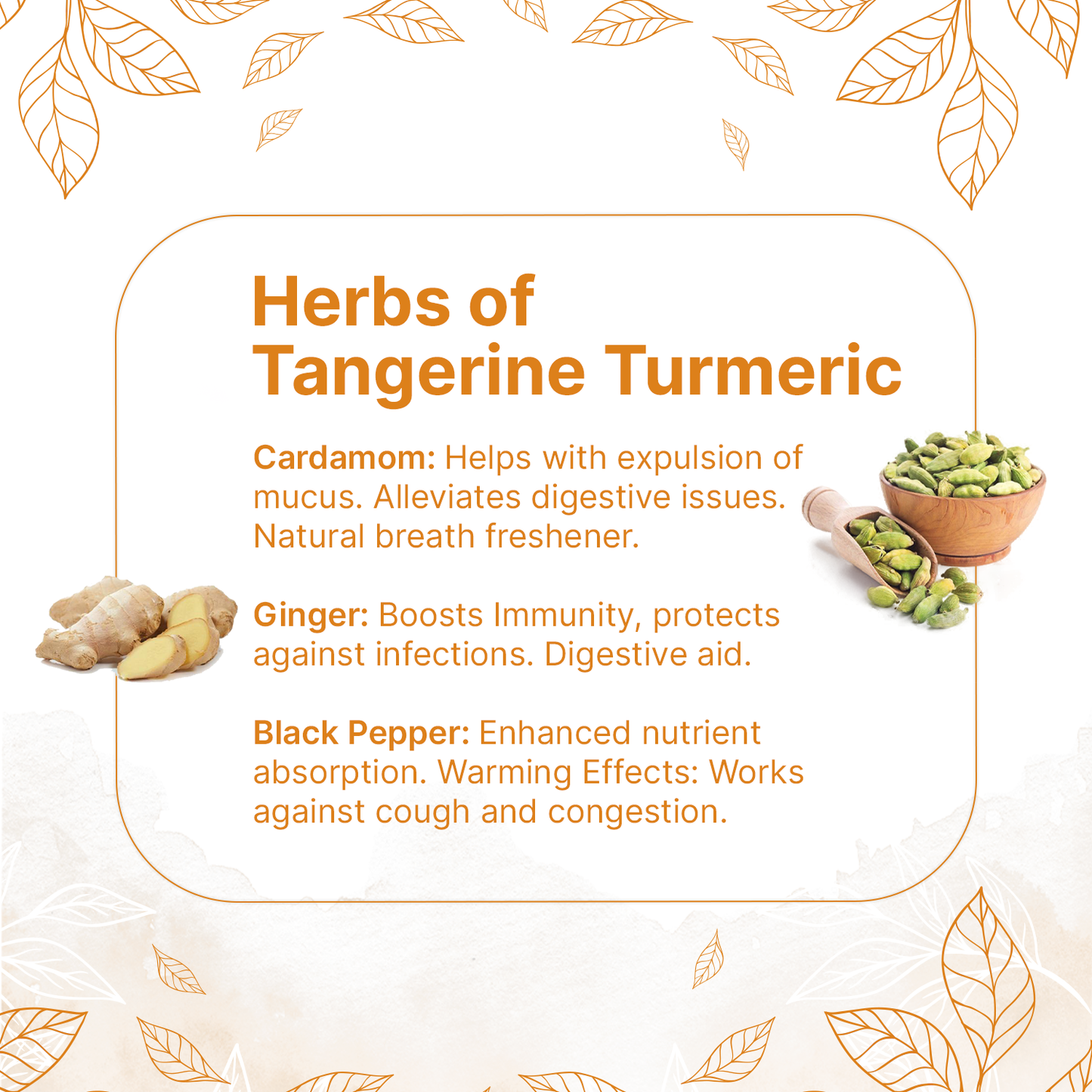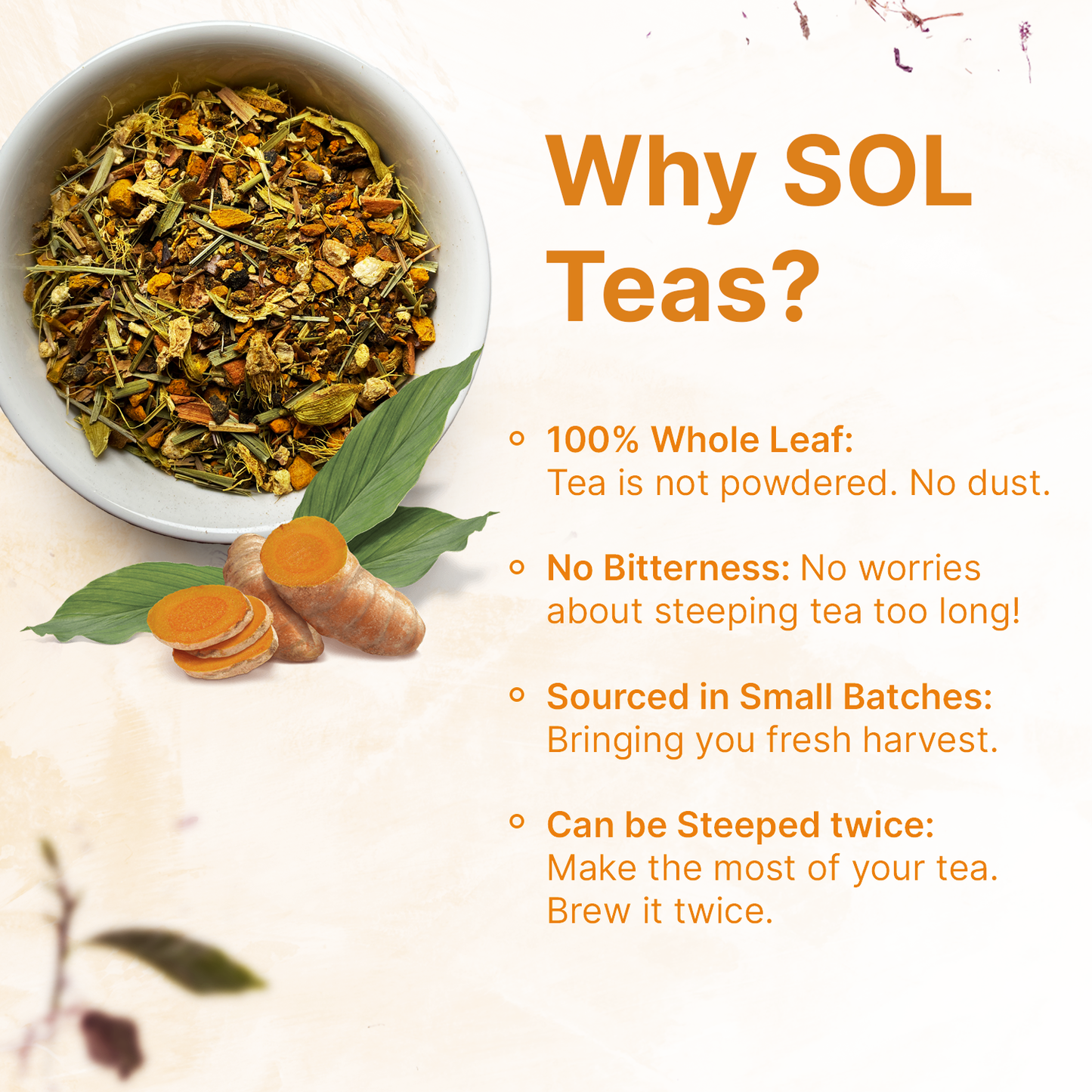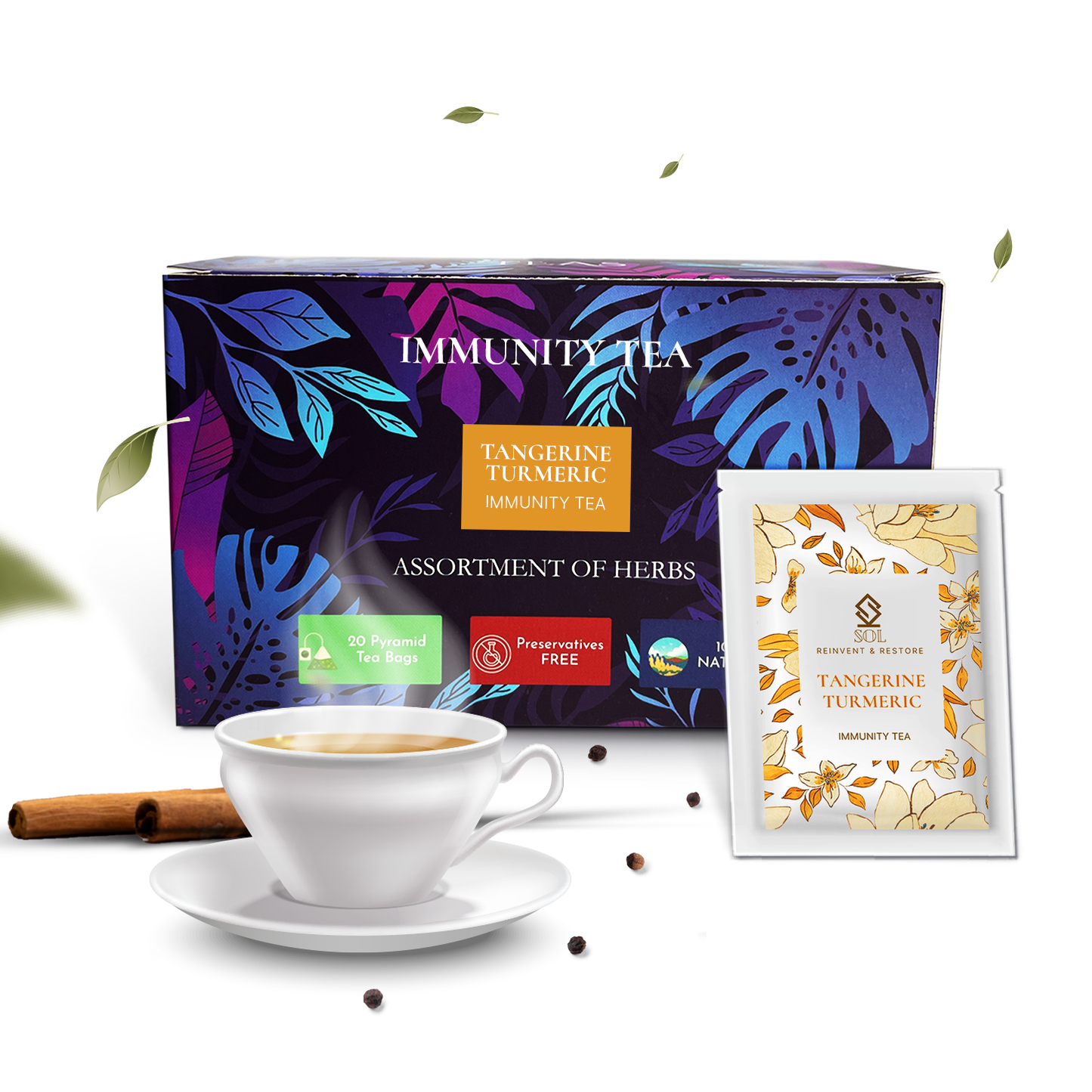 Shipping

We ship the product within 24 hours of order placement

Returns

Return valid for 7 days. The package needs to be sealed and in original condition.
Nice Taste
I like this tea because it has so many spices. Worth trying. The cost is a little high, but the quality of herbs is great. So worth it.
Refreshing taste
The product is just amazing. Its refreshing and is different from the other green tea available in the market. Packaging and delivery service is gr8. Must give a try.
Awesome Flavour
Calming chamomile tea from SOL tastes and smells so good. Best quality chamomile flowers. Mix of Lemon grass and chamomile makes the tea so flavourful. Best tea for night time sleep and after a stress full day.
Best tea -must buy
One of the best turmeric tea I have tasted in my life. Very refreshing, and helped me during cold and fever. Fan of the teas from SOL - Reinvent & Restore. Value for money teas. Must buy!!
This product justifies its title in true sense
Really great product and helped me in relaxing after a hectic day at work.One cup of tea before going to bed helps in great sleep