Regular price
Rs. 799.00
Sale price
Rs. 569.00
Unit price
per
Sale
Sold out
Share
LUNG CLEANSING TEA
Description
Introducing Cuppa Cure - a magical blend that will help purify your lungs from the harmful toxins associated with smoking. Rich in antioxidants, this tea helps cleanse and detoxify your lungs, while also providing anti-inflammatory and gut health benefits. 

Why drink this tea?
BREATHE FREELY AND CLEARLY - Our unique combination of Assam Green tea, Cardamom, and Ginger works synergistically to reduce inflammation, clear congestion, and promote optimal lung function, helping you enjoy every breath with renewed ease and clarity.

SUPPORT IN QUITTING SMOKING - With a blend including Tulsi, known for reducing cravings, combined with other herbs like Ginger and Cardamom, which can help alleviate withdrawal symptoms, Cuppa Cure Lung Detox Tea provides valuable support on your journey to quit smoking and embrace a healthier, smoke-free life.

REFRESH AND REVITALIZE WITH DETOXIFICATION - Embrace the cleansing power of Turmeric, Fennel, and Senna Leaves as they gently eliminate harmful toxins from your respiratory system. Feel the revitalizing effects as your body rejuvenates from within, leaving you feeling lighter, refreshed, and ready to conquer the day.

UNLEASH YOUR BODY'S NATURAL DEFENSE - Fight the villains of pollution and smoking with the ultimate team: Cinnamon, Tulsi, and Black Pepper. They're the Avengers of the respiratory world, battling inflammation and enhancing your lung's superpowers. Take that, toxic fumes!

SHIELD YOUR LUNGS WITH ANTIOXIDANT ARMOR - Indulge in the antioxidant-rich goodness of Assam Green tea, Triphala, Rose, and Tulsi. These protective powerhouses shield your lung cells from harmful free radicals, reinforcing their health and preserving your respiratory well-being for years to come.

EMBRACE RESPIRATORY RELIEF AND RENEWED VITALITY - Experience the soothing relief offered by Cardamom, Ginger, and Fennel. Their expectorant properties help clear respiratory congestion, reduce excessive mucus, and invigorate your airways, leaving you feeling revitalized and energized with each breath. 
Ingredients
Assam Green tea, Cardamom, Cinnamon, Turmeric, Fennel, Ginger, Senna Leaves, Triphala, Tulsi, Rose, Black Pepper
Caffeine
Contains Caffeine

Mode



Best enjoyed in hot form

Tasting

 

Notes
Enjoy the sweet and fragrant flavours of Rose and Cinnamon, combined with a refreshing hit of Fennel for an unforgettable taste experience.
Origin
India
Packaging
Tight-lid cylindrical containers for loose leaves and sachets for tea bags are used to store teas after they have been vacuum-sealed in Matellised Packaging, which protects the teas from air and light while also preventing them from absorbing aromas and deteriorating over time.
View full details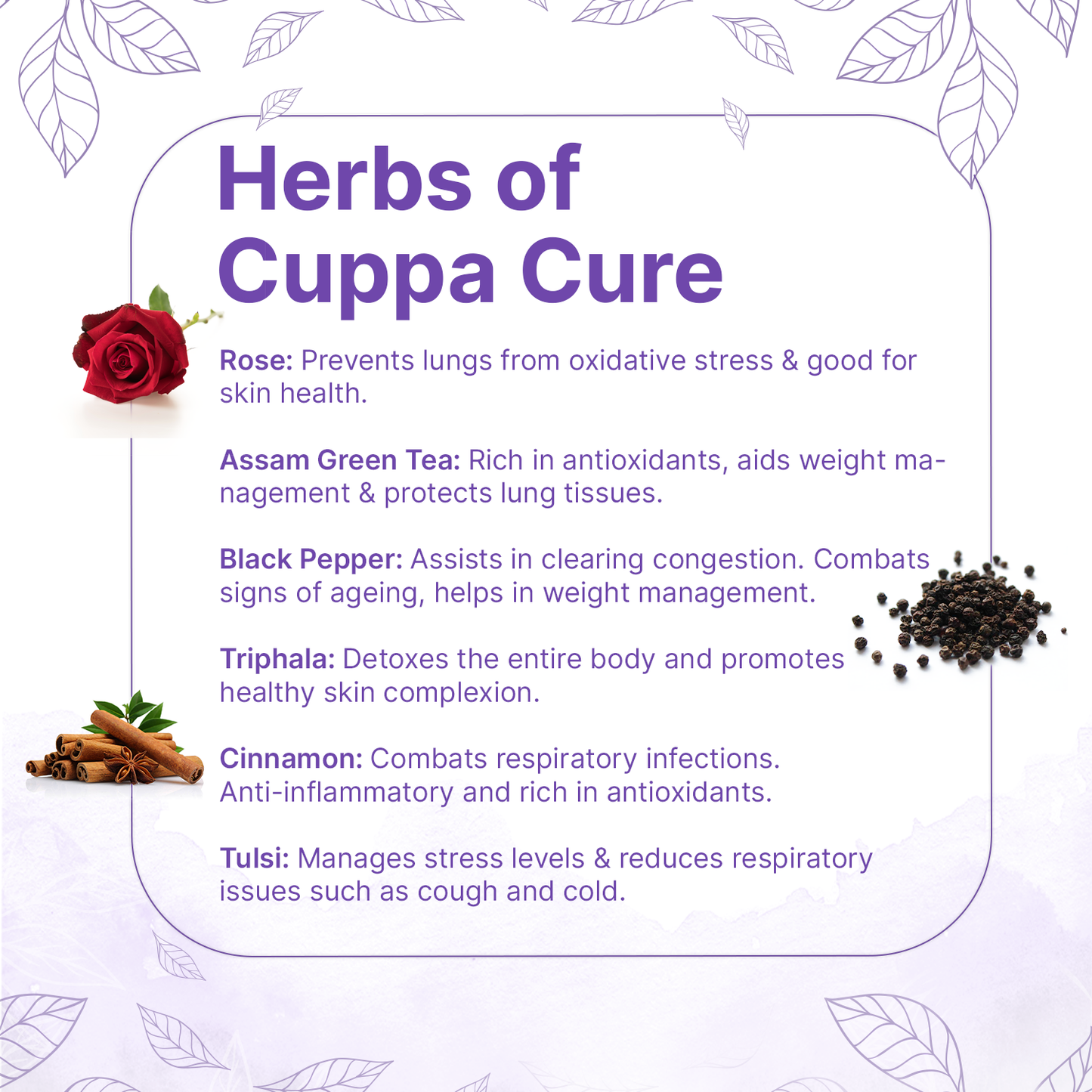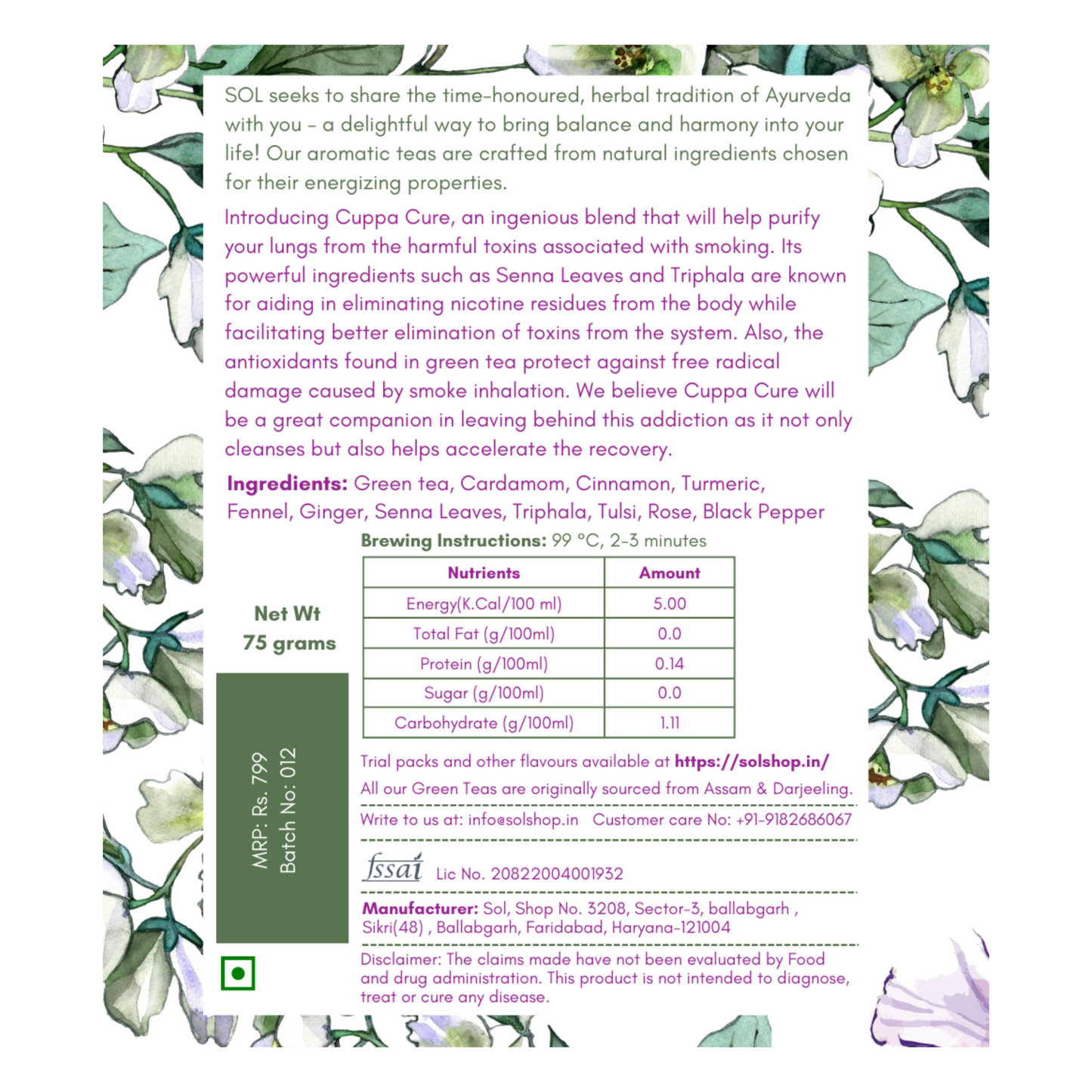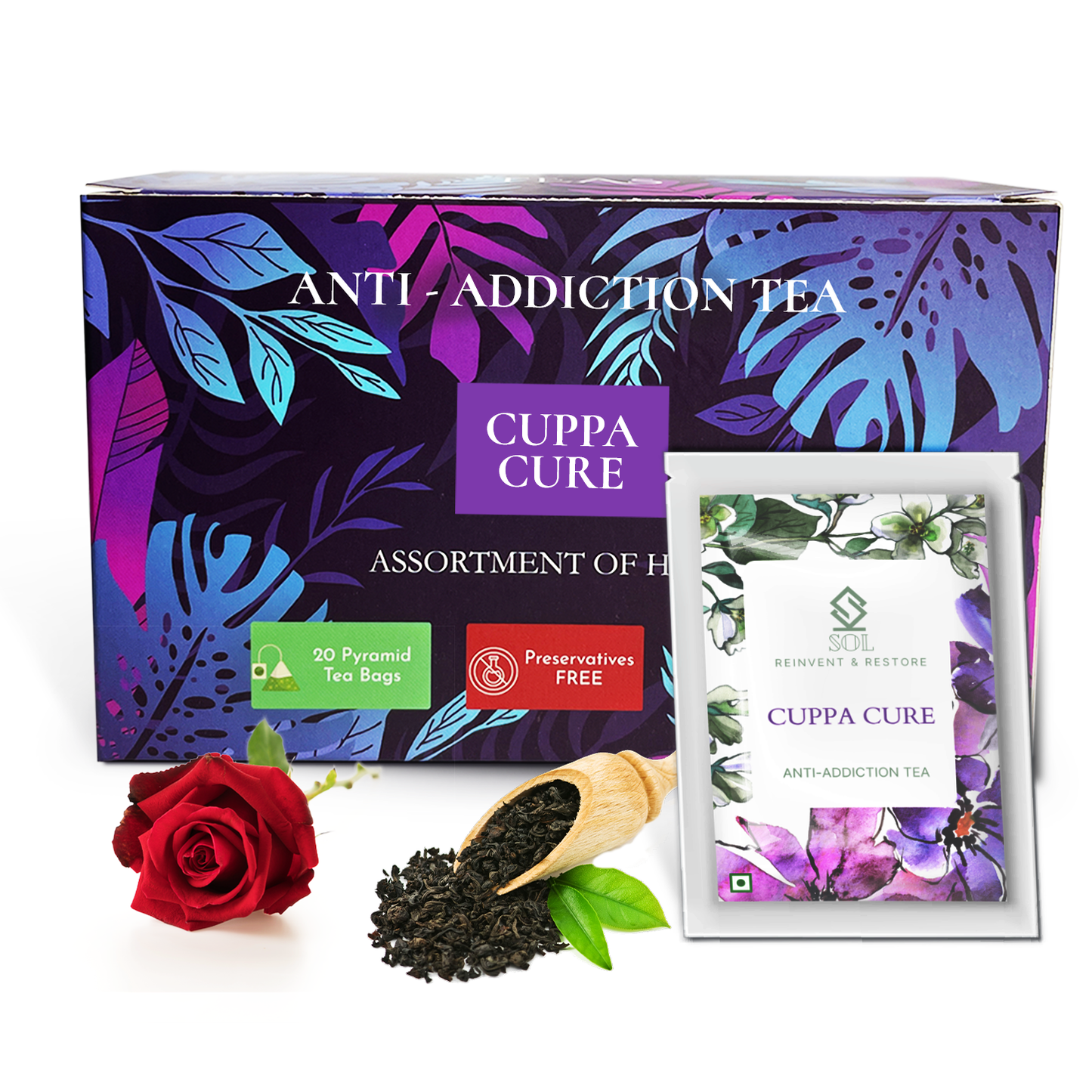 Shipping

We ship the product within 24 hours of order placement

Returns

Return valid for 7 days. The package needs to be sealed and in original condition.
Refreshing green tea
Refreshing taste. Very different from other tea available in the market. Packaging quite good. Gr8 product and service delivery.
Must give a try